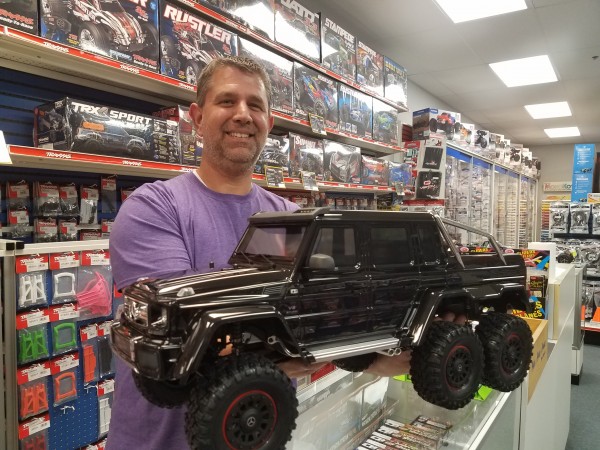 HobbyTown Moves to Shoppes at Fieldstone in Dover
DOVER — As a 12-year-old with parents going through a divorce, Richard Lemley has fond memories of the enjoyable distraction hobbies like RC (radio-controlled) cars and planes offered.
"Divorce can be hard on kids so it was nice to have something fun to do," he said. "I remember that in my middle school in New York they had a unique elective class that focused on flight training — it was actually right around when the Challenger exploded in 1986. As part of the class, we were building control line airplanes and I really took a liking to that. We were supposed to build one over the course of three months, but I worked on mine at home and came back with it done in two days. Then I started helping the other kids in the class and sort of became the teacher's protégé. I had a ball with it."
Branching into RC cars and rocketry in addition to planes, the hobby kept his attention into his 20s. But before long, other priorities edged the pastime out.
"I ended up getting busier with family and work — I was a car salesman for about 20 years — and I sort of just shied away from the RC stuff," he said.
However, three years ago, a little extra time set the stage for a big resurgence.
"I was at the point where all I did was work, so I decided to have a little fun again with RC cars," said Mr. Lemley. "We'd travel up to the shop down in Seaford or in Wilmington, and eventually I realized that it'd be really cool to have a hobby shop like this in Kent County."
After running a small hobby store/race track in Camden, he moved his operation to Dover Mall for a year. There, he adopted the HobbyTown — a retail hobby, collectibles and toy store chain — brand.
However, as of early September, he moved his Hobbytown location to 96 Salt Creek Drive in the Shoppes at Fieldstone shopping center in Dover.
The store is almost double the square footage as his last location and allows him to carry a larger inventory.
The location stocks popular brands of RC cars, planes, boats, drones helicopters, trains and even nitro cars. Mr. Lemley also sells parts — both factory and after market — upgrades, battery options, tires, fuels, tools and paint. He notes that his selection will appeal to devoted hobbyist and newcomer alike.
He also stocks more typical hobby store fare such as models, slots cars, science kits, telescopes, board games, puzzles and other assorted "knick knacks."
While a lot of his customers tend to be people with a similar hobby background to him — recapturing childhood memories — Mr. Lemley is especially pleased to see younger customers exploring the pastime. "It's great to see a younger kid come in who's excited about RC stuff," he said. "This isn't like walking into Walmart toy section, in here there's a cool factor. We have RC cars that can hit 100 mph out of the box and airplanes that go 140 mph. An average person, with some basic training and knowledge can do it and have a great time. But we have great entry-level stuff too. An 8-year-old can have a great time learning on one of our smaller RC cars that only go about 20 mph. Before you know it, parents are buying one for themselves and it becomes a family activity."
He hopes that the store and its offerings will inspire the next generation of local hobbyists.
"Honestly, for me, it all started with that teacher taking the initiative to start that flight class and teach me about these things," Mr. Lemley said. "If it wasn't for that, this store wouldn't exist."
To follow developments, visit the store on Facebook by searching @HobbyTownDover or call 302-538-7569. The store is open Monday through Friday from 10 a.m. to 7 p.m., Saturday from 10 a.m. to 6 p.m. and Sunday from noon to 5 p.m.